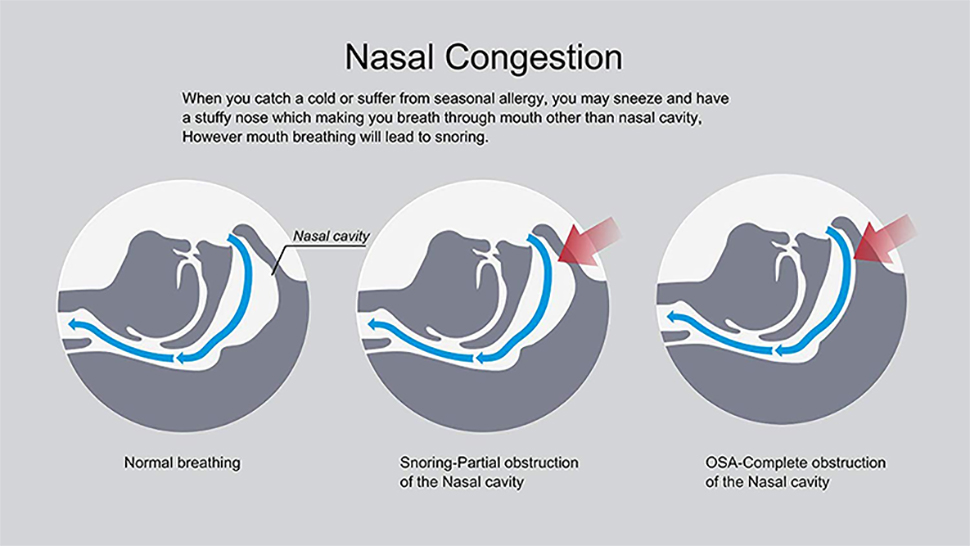 RELIEVE NASAL CONGESTION AND SNORING - As great alternatives to nasal strips, WoodyKnows ultra-thin nasal dilators open your nose more effectively from within for both daytime and nighttime nasal congestion and related snoring relief due to cold, allergies, sinus issues, and deviated septum. Work better with decongestant nasal sprays.
BALANCED SUPPORT & UNIVERSAL FIT & COMFORT - Ultra-thin nasal dilators promise mild and balanced dilation and super comfort due to the special rib design and the soft material. The patented open-ring design for flexible adjustment makes them available to anyone, even those with deviated nasal septum.
INVISIBLE & REUSABLE - When wearing, unlike nasal strips, only the slim and unnoticeable clip stays outside the nose. Wherever you are in office or walk on the street, you will never worry about damaging image. Moreover, these ultra-thin and adhesive-free dilators leave no facial blemishes and let you breathe freely in an unconscious way. These nose vents are reusable for more than 30 days.
COST-EFFECTIVE PLAN FOR TRIAL - Our sleep aid dilators are available in sizes small, medium, and large. As a cost-effective way plan for your first try, this anti-snoring solution includes a great value Multi-size Pack. Three snoring stoppers of different sizes help you to choose the fittest one.
SATISFACTION GUARANTEE - Please feel free to contact us through Amazon customer service. We are committed to providing the best customer service possible.
Why is it important to address snoring?
Simply put, snoring is a disorder. It has a great impact on our sleep quality which may affects our performances of the next day. It is a serious sleep disorder that can lead to life-altering cardiovascular and cognitive disorders. Not to mention snoring is just plain annoying and embarrassing.
How WoodyKnows Nasal Dilator address Snoring?
WoodyKnows Nasal Dilator, as a physical way to relieve nasal congestion and snoring, can effectively support your nasal cavity, open up your nose and maximize the airflow. It will eliminate or substantially reduce snoring and allow snorers to breathe freely.



Support nasal cavity to relieve nasal congestion & snoring

Opens nasal passage
relief stuffy nose

Expand your nasal passages
maximize the airflow

Effectively opens up nostrils from within.
No chemical adhesive.
Almost invisible.
Does not leave facial blemishes.
Reusable.

WoodyKnows 3rd Gen Nasal dilator
gently opens up nasal passages
from within for easier breathing.

When you catch a cold or suffer from seasonal allergy, you may
sneeze and have a stuffy nose,
making it difficult to breathe, especially when you lie down.

When you exercise, your muscles are
moving quickly, the blood cells need
more oxygen. If you can't breath through nose, you may be lack of oxygen.

sizes

How to set up

Package Content

First-time buyers are recommended to order the multi-pack(S/M/L/XL).

Hold the nasal dilator frame and adjust them with the shape of your nose.

Tilt it and insert the narrow end into your nasal passage.

Push the wider end into your nasal passage. Fasten the connectors.

Adjust it with fingers. Make sure it dilates your nose effectively.

Multi-Size Pack:
4 pcs nasal dilators(S/M/L/XL).

Single-Size Pack:
3pcs nasal dilator
Other:1 pc storage case, 1 pc manual.

Caution:

This product is made of silicone which may cause allergic reactions.
Do not use if you are hypersensitive to silicone.
Not for use if under the age of 5.
Please carefully read, understand and follow enclosed instructions before use.

Side Sleep Backpack

2nd Gen Nasal Dilator

3rd Gen Nasal Dilator

Mouth Strips

Position

Back

Nose

Nose

Mouth

Symptom

Snoring due to throat obstruction

Snoring due to nasal congestion

Snoring due to nasal congestion

Snoring due to other unknown reasons

Effect
Relieve snoring, Develop side
sleeping habit

Relieve nasal congestion and snoring

Relieve nasal congestion and snoring

Relieve snoring, Develop nose breathing habit

Working Principle
Help maintain side sleeping
position so that respiratory
tract to assume its natural
position without being blocked by the relaxed soft palate which will relieve snoring due to throat obstruction

Effectively support your nasal cavity and maximize the airflow which will relieve snoring due to nasal congestion

Effectively support your nasal cavity and maximize the airflow which will relieve snoring due to nasal congestion

Reduce snoring and sleep talking by gently closing your mouth.

Material

Polyester, Polyethylene

Medical Grade Plastic

Medical Grade Silica Gel

Non-woven Fabric